One of the first movies I ever saw was
Oklahoma
.
To this day it's how I remember how to
spell
it.
Last night Mr. Trump held a rally in Tulsa, Oklahoma.
It's the first one in a long time largely due to the Corona Virus outbreak.
And if there is one thing we know for sure, Mr. Trump loves his rallies
So, how did last nights rally go?
The Trump people touted that there would be a
million people
in attendance...
there were
just under 6,200
.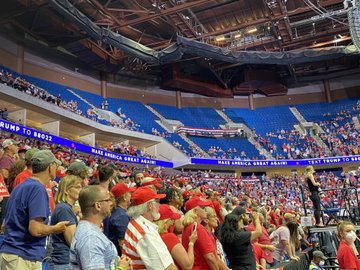 Needless to say there were a lot of empty seats, which were immediately explained by deft
administration officials as being due to;
the virus
the protesters
the media
gremlins
the ghost of John McCain
Barack Obama
Hillary Clinton
John Bolton
Kahn
The
Empire
puppies
kittens
B
enghazi
and any other thing or person this president could come up with .
In 2016 Trump
won
Oklahoma by 26 points a state that hadn't been won by Dems since 1964!
We watch with bated breath....
Have a wonderful Sunday...
Noodle and crew
We are joining in
The Cat On My Head
blog hop!